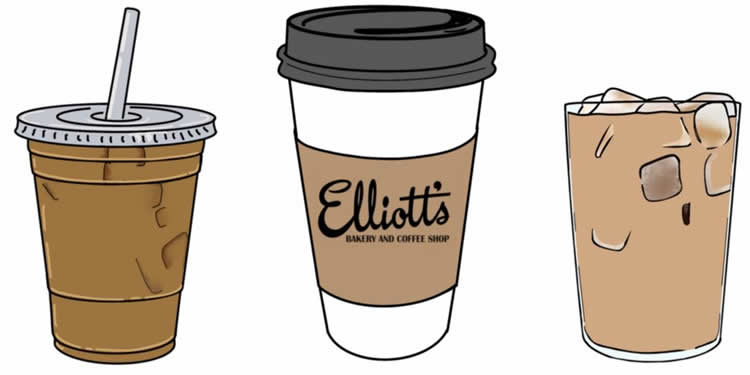 Flavors from Our Coffee Shop
Are you looking for delicious coffees and teas to enjoy with your tasty treats? At Elliott's Bakery and Coffee Shop, we're serving our delicious drip coffee from Farmer Brothers and in June we'll be opening an espresso bar with special pour-over coffees and cold coffee drinks. We have partnered with Creation Coffee to bring you ethically-sourced and freshly-roasted coffee beans. They sell blends and single-origin coffees from around the world as well as a selection of tea. Our coffee and tea beverages go well with our delicious cookies, cakes, breads, donuts, pastries, and pies. Let's take a look at all of these offerings at Elliott's Bakery and Coffee Shop.
Farmer Brothers Coffee
Our Farmer Brothers drip coffee is what we've been serving for a long time at Elliott's Bakery and Coffee Shop. It's the well-balanced brew that comes in a variety of roasts that you know and love. Whether you prefer a dark roast or a medium roast, there's something for you from Farmer Brothers. They also offer, and we carry, decaf roasts for customers who cannot have caffeine. No matter which Farmer Brothers coffee you choose, it will go well with our delicious baked goods.
Our New Espresso Bar with Creation Coffee
In June, we plan to debut our espresso bar. We have partnered with Creation Coffee, a company located in Midland Michigan, to bring you the tasty creations that you'll be able to find at our espresso bar. They roast ethically-sourced blends and single-origin coffee from around the world. The house blend we use will make delicious, cold espresso drinks and hot coffee. We will offer special single-origin coffees weekly from around the world. Below are some of our special flavors from Creation Coffee to look forward to in June.
Creation Espresso is their signature coffee blend with beans from Guatemala and Costa Rica. It has chocolate and nut flavors that go well in both hot and cold beverages. Ten Generation is a rich medium blend that tastes like caramel and almonds made from roasted beans from Guatemala and Colombia. This is a delicious coffee to have in the morning to start the day. Perfect Dark is a dark roast with a hint of chocolate and sugar with a smokey flavor. The beans are sourced from South America and make delicious after-dinner beverages.
Creation Coffee single-origin coffees include light and medium roasts from Costa Rica, Ethiopia, Colombia, Kenya, and Guatemala. Costa Rica Angelia is infused with blackberry and jam flavor using high-quality beans. These coffees come in fine, coarse, medium, and whole bean form. Ethiopia Archia is a light-washed roast that has the flavor of lemons, peaches, and jasmine. The single-origin coffees offer notes of fruit, chocolate, and nut flavors. Creation Coffee also sells Earl Grey Tea, English Breakfast Tea, Hibiscus Berry, Jasmine Green Tea, Chamomile, and Masla Chai sold in loose-leaf bags.
Come by Elliott's Bakery and Coffee Shop in Trenton, MI. We're known as the best bakery in the area, serving delicious coffee and tea with delectable baked goods. We are located at 2636 West Jefferson and have booths and tables waiting for you or takeout services available.
Sorry, the comment form is closed at this time.