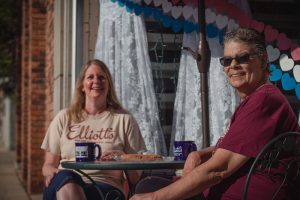 Trenton's beloved Elliott's Bakery was purchased by Bradley and Kristine Davidson in May 2018. Brad works in an auto body repair shop, and Kris is an educator. Both Brad and Kris are lifelong Trenton residents and love Elliott's Bakery.
Kris' favorite cookie is the butter bud.  She used to save her lunch money from Monguagon Middle School and stop by Elliott's Bakery on West Rd on her way home from school to buy butter buds.
When Kris inquired about getting the recipe, the owner Violetta Vidojevski would say, "you have to buy the bakery", so The Davidsons bought the bakery and now have the butter bud recipe.
The Davidsons have kept the traditional recipes from 1931 when the bakery opened and the recipes that the Vidojevski family added, as well as a few new items to the menu. The most beloved item at the bakery is the chocolate Long John donut. The donuts are made fresh daily as is the chocolate buttercream filling and chocolate icing. The second most beloved item at the bakery is the vanilla Long John. Just like the chocolate Long John, the vanilla Long John is made from scratch daily with buttercream filling.